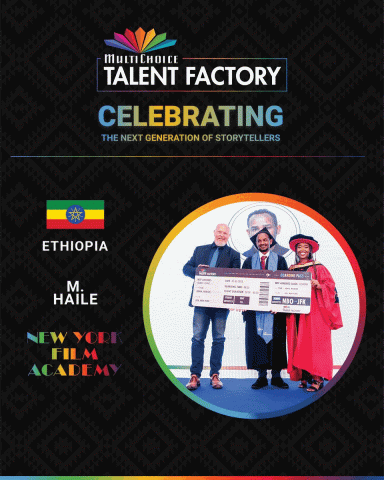 MultiChoice congratulates the Class of 2022 on their achievements and looks forward to working alongside these talented graduates to bring uniquely African stories to homes and cinemas across the continent.
Out of the 57 students across three academies in West, East and Southern Africa, top graduates were selected to receive opportunities of a lifetime, through our partnership with New York Film Academy and Zee World. 
The top graduates who were awarded an eight-week scholarship at the New York Film Academy (NYFA) are Melkamu Haile from Ethiopia, Lushinjilo Victor Kasanga from Zambia, and Adedamola Akapo from Nigeria. The top graduates awarded a two-week Bollywood internship, co-sponsored by Zee World are Emmanuel Horla Nuvor from Ghana, Audrey Egesa from Kenya and Yvonne Feresu from Zimbabwe. Additionally, top graduates Oluwatoyosi Fowode from Nigeria, Kenneth Msanjila from Tanzania and Larona Dichaba from Botswana have been awarded with a two-week internship at a local film and TV production in South Africa.
MTF Academy has proven that the African entertainment industry is ripe with gripping stories that are waiting to be told. We wish the best of luck to all the graduates and our prize winners. Go forth and conquer!