Storytelling Masterclass
Masterclass series with Prof. Linus Abraham
The Storytelling Masterclass series delves into discovering your artistic identity as a storyteller, understanding the process of creative storytelling and writing, the magic of the ideational process and how to use essential structures and conventions to finally bring your story up to the industry standard.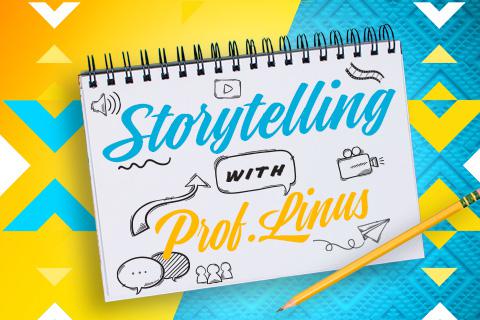 Signup today to get access to these masterclass video lessons exclusively. Learn at your own pace on mobile or desktop.
Professor Linus Abraham is a trained film director and documentary filmmaker and professor of film, visual communication, broadcast journalism, cultural studies, and new media. He has a Diploma in Film Directing (Distinction, 1984) from the National Film and Television Institute (NAFTI), Ghana; a BA in Broadcasting Journalism (Summa Cum Laude, 1992) from the School of Journalism and Mass Communication, University of Minnesota; an MA in Mass Communication (1997) from the University of Minnesota, USA; and a PhD in Communication (1998) from the Annenberg School for Communication, University of Pennsylvania, USA.
He taught at the Greenlee School of Communication, at the Iowa State University in the US (1998-2002), at the School of Journalism & Mass Communication, at the University of Minnesota, in the United States (2002-2007). He served as the Dean of the Communication Studies department of the African University College of Communications (2007-2008). He was a lecturer at the School of Communication Studies, at the University of Ghana (2008-2013) in Accra. He served as a consulting Professor for the Communication Studies Department of Central University from 2011 to 2013. He also served as the Rector of the National Film & Television Institute (NAFTI) from 2010-2017. He later served as the Vice-president of Academic Affairs at the African University College of Communications.
Among his documentary productions are Barbara's Doll House (in the Independent Film Producers Museum in New York) and The Forgotten Sports Heroes (a reflection on past sports heroes in Ghana).
As the Rector of the National Film & Television Institute (NAFTI), he developed certificate/diploma professional courses in film and television for practitioners who wanted professional upgrade to their skills, but didn't have the qualifications to enter Bachelors programmes.
Professor Abraham has served as a Juror on a number of Film Awards and Festivals, such as the AMVCAs (on three occasions, recently the 2020 Awards) and on the 2017, 2018 and 2019 Uganda Film Festival Juries (serving as chair of Jury in 2018 and 2019).
In the past two years, he has served as the Chairperson of the Ghana Foreign Language (Oscars) Committee – which supervisors the selection of films from Ghana to be presented for competition in the Oscars.
He serves as a facilitator for Storytelling and Visual Aesthetics courses for the Multichoice Talent Factory Academy (MTFA) in Nigeria and Kenya. In 2019 He facilitated a Masterclass in "Story Visualization" at the 2019 Uganda Film Festival (sponsored by MultiChoice Talent Factory, Uganda , and the Uganda Communications Commission). He also facilitated a workshop on "Telling Effective Stories," for the Kenya Film Industry (organized by the Kenya Film Commission,KFC, MultiChoice Kenya, and MultiChoice Talent Factory, East Africa